2019 Volkswagen Jetta Gets Betta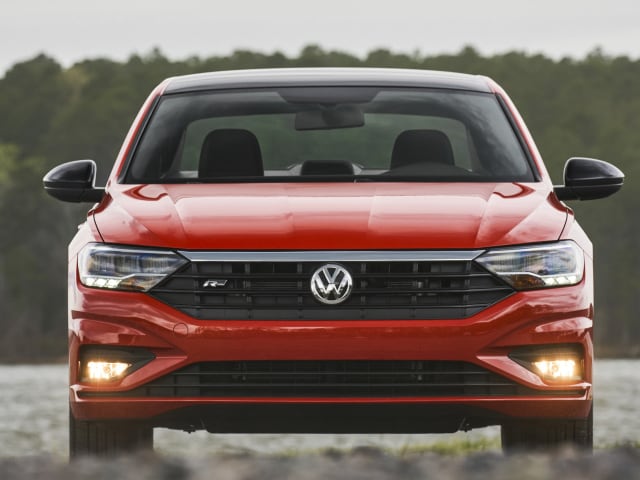 For nearly 40 years, the Volkswagen Jetta has impressed drivers from all over the globe with its affordability, reliability and refinement. The recent release of the 2019 Volkswagen Jetta has been a highly anticipated event for months since it represents the debut of the model's seventh generation. At Rudolph Volkswagen of El Paso, TX, we're pleased as punch to offer this ground-breaking new Jetta to our customers. Here's what you can expect from the 2019 Jetta when you come onto our lot to take it for a spin.
Engine and Transmission Specifications
When it comes to muscle, every 2019 Jetta is equipped with a turbocharged 1.4-liter inline-four. It produces 147 hp and 184 lb-ft of torque thanks to more boost, direct fuel injection and a few design tweaks. As far as transmissions go, the default option for all new Jetta trim levels is an eight-speed automatic. If you want the six-speed manual gearbox, you'll have to start with the S trim level and tack on optional packages to get the features you desire.
Real-World Driving Performance
Thanks to a relatively low curb weight of 3,000 pounds and a 0.27 drag coefficient, the 2019 Jetta can achieve 60 mph in as little as 7.9 seconds. A wheelbase of 105.7 inches and a fairly taut suspension setup allow the 2019 Jetta to corner with confidence on rough roads. Fuel economy comes in at 30 mpg around town and 40 mpg on the highway. A start/stop ignition system that kills the engine when you come to a halt boosts efficiency on automatics.
Exterior Styling and Suspension
From the outside, the 2019 Jetta is strikingly different from the 2018 version thanks to a more aggressive design. Besides the obvious side crease beneath the windows, the front end is boxier and the rear end is more tapered. LED front and rear lamps, optional 17-inch alloys and new exterior colors complete the overhaul quite nicely. Underneath the surface, the Jetta boasts a VW Cross Differential System and a reliable torsion-beam rear suspension. These tweaks allow the new Jetta to maintain traction far more easily at high speeds.
Cabin Upgrades and Creature Comforts
On the inside, the 2019 Jetta is far roomier than its predecessor. Boasting 37.4 inches of legroom in the rear and 38.5 inches of headroom up front, it'll accommodate occupants in greater comfort than ever before. The stock upholstery is the simple but high-quality cloth we've come to expect from Volkswagen. The leather is available on the higher trim levels and via certain packages. VW's Digital Cockpit delivers color-adjustable interior lighting all over the vehicle and ring gauges on the dash for a superior driving experience.
Safety and Infotainment Features
As far as bare-bones safety goes, the 2019 Jetta has automatic post-collision braking and a Tire Pressure Monitoring System by default. Optional safety features include Adaptive Cruise Control, Blind Spot Monitoring, Lane Assist, and Rear Cross-Traffic Alerts. A 6.5-inch touchscreen display manages the Car-Net infotainment system as well as the included Beats Audio. Every Jetta supports Apple CarPlay and Android Auto no matter what trim level or package you opt for. A more spacious 10.25-inch digital display is included in more expensive trim levels.
Trim Levels, Packages and Prices
The all-new 2019 Jetta comes in five distinct trim levels: S, SE, R-Line, SEL and SEL Premium. The R-Line gets an XDS front differential, plenty of sport-inspired trim and brake-based torque vectoring. Premium options like heated and ventilated seats as well as leather trim are available on nearly every trim. The ballpark MSRP for a Jetta S is about $19,500. A Jetta SEL would clock in at about $25,000. A top-of-the-line SEL Premium that includes leather upholstery should start at about $28,000.
Get Your 2019 Volkswagen Jetta Today!
At Rudolph Volkswagen of El Paso, TX, we're more passionate about the brand-new Jetta than you could possibly imagine. We consider it a privilege to provide a superior Jetta ownership experience to our loyal clients. If you want to take the new 2019 Jetta for a test drive to see what it brings to the table, Rudolph VW is just a short drive away. Once you experience the new Jetta for yourself, we guarantee you'll want one for the long haul.